Tuesday, July 25, 2006 at 11:30AM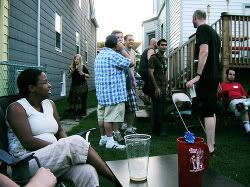 On July 15, a who's-who of Chicago stand-ups descended upon Lincoln Lodge co-founder Mark Geary's backyard. The occasion: a sloppy meat-and-alcohol-filled celebration of the Lodge's recently completed sixth season.
It was a scene reminiscent of the Fresh Prince video "Summertime," only with a lot less dancing and an overabundance of white people. Early on, Lodge favorite Ken Bernard and perennial Lodge emcee, Bill Cruz, were spotted noshing on burgers whilst discussing the finer points of Robert Downey Jr.'s performance in Kiss Kiss Bang Bang. Moments later, popular Lodge "Man-On-The-Street" correspondent Tony Sam rallied the troops for a spirited session of bocce.
Meanwhile, one of the Lodge's most requested acts, Kumail, worked off his meal by shooting some hoops. As the evening progressed, Mikes Holmes and Olson swished their Midwestern charm around while having a chit-chat over frosted beverages.
Lodge stalwart Sean Flannery, endearingly eccentric comic Robert Buscemi, and the sardonic laugh factory that is Allison Leber arrived just in time to take in a screening of the Found Footage Festival. Some of the more crowd-pleasing moments from the screening included footage of a glowing Corey Haim describing his ideal mate in a diary-like confessional and Traci Lords pushin her' her hammys to the limit in a workout video. Lodge co-founder Tom Lawler also made a late evening appearance exchanging "thank-yous" and "you're-welcomes" with attendees.
Party report from Evan Clossin.
Photo by Reilly Lambert.
in
Gossip/News