Friday, July 11, 2008 at 4:00AM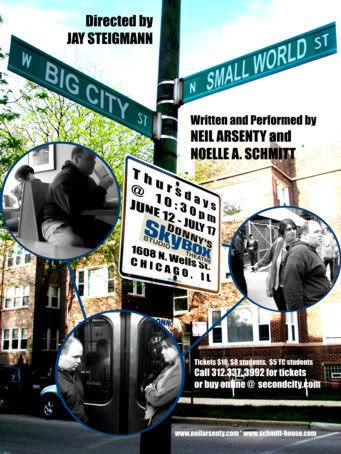 Being in the grocery store with my grandmother as a child was always a fascinating experience -- that woman seemed to know everyone, and wasn't afraid to talk to them at length in the dairy aisle.
Though Neil Arsenty and Noelle Schmitt have only known each other since college as opposed to 50+ years, they have come to realize that all of their friends are interconnected somehow, and thus spawned Big City, Small World, playing Thursdays through July 17th at Donny's Skybox.
"Noelle and I met eight years ago in college and have been good friends ever since," Arsenty told the Bastion. "Ever since I heard my first Mike Nichols and Elaine May album, I've been wanting to do two-person sketch and in December, our mutual friend (and my oft director of Skybox-shows-I've-performed-in) Jay Steigmann suggested we join forces to put together this show. We were both amused to discover how much everyone is really connected in our lives, like so-and-so went to high school with this person who is now the roommate of this person who is longtime friends with someone that I met years ago. That basically was the basis of the show."
Previously, the pair have made a few short films, including Super Happy Help Squad and the web-series Basil. Schmitt is writer and performer for SchmittHaus, a production company she is launching with her brothers Matthew and Jared. They are currently working on a video webseries. Arsenty has been in about ten sketch revues in Chicago (nine at the Skybox), he's a writer and performer for the video podcast Midwest Teen Sex Show, and a member of the sketch group Cell Camp. He's also performed improv and stand-up from time to time.
In this two-person show, Arsenty and Schmitt play a wide range of characters from angsty teen and cool mom, to video store clerk and customer, to recently-fired husband and menopausal wife.
Though each vignette is brief, each is endearing and, of course, funny. With only one show left, make it a priority to get to Second City and see this show before it's too late.
Trapped opens at 10:30pm with Big City, Small World following. The final show is Thursday, July 17.
-Jen Bacher