Friday, August 24, 2007 at 10:00AM
"Allah Made Me Funny-The Official Muslim Comedy Tour," featuring Chicago comedian Azhar Usman, will be made into a feature-length concert film, produced by none other than Dave Chappelle.
According to a recent press release, the tour "will be made into a feature-length concert film that will showcase the comics' on-stage performances and shine a spotlight on their lives, announced Dave Chappelle, the project's executive producer." Chappelle said this show is "one of the funniest and most important comedy shows in America today. These guys are pioneers in the world of Muslim comedy and I am proud to be attached to this project."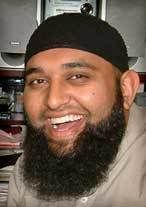 The Bastion snagged a little Q&A with Chicago's own Azhar Usman about how he left a career in law to make people laugh, why he loves his home city of Chicago, the Chappelle-produced film project, and more.

You're about 32 (?), and you're a lawyer-turned stand-up comedian? How did that transition come about, and have you left the law behind for good?
I am actually 31. I am not quite sure how the transition came about --- it just sort of happened. I was practicing law (badly), and I was doing standup for fun (also badly). Eventually, I began to get better at standup and even worse at practicing law, so it made sense at some point to quit the law. The moment I saw that I could make a living as a comic, I knew I would give up the law altogether. I stopped practicing law full-time in early 2004 and never really looked back. However, I am always amazed at how much of my legal training I end up using as I continue to build my career as a professional entertainer. It's partly why I don't feel the need to have a manager or an agent (so far), because so much of the value-add of such handlers is because most entertainers don't know anything about law or business. My background in both law and business has helped me tremendously, I believe, and continues to be a source of ongoing benefit.

Where and how did you get involved in comedy in Chicago? What prompted you to want to start, and had you always had an interest in comedy?
I had always loved comedy, even as a kid. I was inspired by standup comedians. I did a fair amount of improv and sketch type of comedy, even as a kid, at summer camps and school and whatnot, but I was always super-intimidated by standup. It just seemed so daunting --- a guy with a mic just standing there in front of a room full of strangers, sharing his own ideas and making everyone laugh. Wow, even just writing that down right now sends shivers up my spine. I think standup is tough, and standup comedians don't really get the respect they deserve in the entertainment business, in my opinion.
As for how I got started, it's the same story as just about any other Chicago comic: open mics. After years of wanting to try it, I finally got up the courage to go to an open mic. It was a really crappy one held inside of a Barnes & Noble (coffee shop area) on the south side. I was living in Hyde Park at the time, and it seemed like a good idea. I did well at my first open mic, actually, which shocked me. I had been writing jokes for nearly 9 months at that point, so I guess I had a decent amount of material relative to your average first time open micer. In any case, I then started to get more interested in the local scene and that's when I started asking around and I heard about the (now legendary) Lyon's Den. I went. I watched. I watched comics get murdered on stage, and I watch some (only a few) comics kill up there. I wanted so badly to try it, but it took me several months of periodic visits to finally work up the courage to get up there. When I finally did, I actually did okay, which, I think, caused some of the more senior comics on the local scene to actually take notice of my act and give me encouragement. About that time I also signed up for the Chichahahago message board and began posting regularly and trading jabs with fellow comics. That was all the encouragement I needed to keep at it.
What rooms did you start off in, and who are the people you learned from and came up with on the scene here?
I started at around the same time (within months) of some of the guys who have already moved on from Chicago or are now considered the rising stars, people like Pete Holmes, Kyle Kinane, Kumail Nanjiani, Robert Buscemi, TJ Miller, and tons of others. I did Dave Odd rooms and contests. I even did a couple of shows with the (infamous?) Andy Lurie, which I actually fondly recall. I made several appearances at The Lincoln Lodge, and Mark Geary was always supportive and friendly. At the same time that I was continuing to do Chicago rooms, open mics and showcases, I was getting actual paid work to perform my brand of standup at Muslim-sponsored events --- places like conventions, conferences, parochial school programs, mosque fundraisers, professional association meetings, private parties, etc. It was really great because, in retrospect, I realize now that I was basically getting paid to learn how to do standup. I was getting up regularly in front of friendly (and forgiving) crowds, being given 30 and 40 minutes on stage, and getting paid to show up. It was unbelievable. I could never have developed as a comedian, I think, as quickly as I believe I did, had it not been for all that stage time. And even then, I know that I have a LONG way to go in my development as a comedian.

I read that you grew up an Indian Muslim kid in a mostly Jewish neighborhood. How has Chicago's cultural diversity shaped you as a person?
I am a child of this city. I LOVE Chicago. To me, it is really the heart of America –- a HUGE, cosmopolitan megacity with down home Midwestern personality, the perfect balance. I actually grew up in Skokie, which I really enjoyed. Sure, I was among a religious and ethnic minority, but my schools were fairly diverse, both grade school and high school. And even most of the white kids were children of open-minded liberals, maybe even former hippies, so there was very little overt racism or discrimination growing up. Of course, there was always enough to remind you that this was still America, but it was never really horrible as in, like, civil rights era horrible. I went to college at the UIC Honors College and I lived with roommates on the west side of campus off Taylor Street, so that was really a great time in my life. I wish I would have enjoyed the city even more back then, but I spent most of college asleep. No, seriously, I was literally asleep for most of that part of my life. Nonetheless, the cultural diversity of the city definitely shaped me as a person. I would sometimes have dreams in foreign languages.
The show came together in about 2004, what's the story of how that came to be? How did all the comedians meet, and what was the overall common goal you wanted to aim for?
Preacher Moss, who is the founder of the "Allah Made Me Funny—Official Muslim Comedy Tour" had been doing standup for nearly 20 years at that time. He had been a Muslim for nearly as long. He had this idea to put together a touring showcase of Muslim standup comedians. As he started poking around the Muslim community and the functions of Muslim organizations to see if there were any comedians working in that "circuit," he kept hearing my name. Eventually, someone gave him my number and my website. He checked me out and I guess he saw some potential. He called me and introduced himself. I had actually heard of him and I told him that. I was flattered that he would call me to invite me onto Allah Made Me Funny. It just so happened that Preach was going to be in Chicago a couple of days later so we agreed to meet. We totally hit it off and the rest, as they say, is history. We later brought on a brother called Azeem Muhammad who toured with AMMF until the summer of 2006, and when Azeem left we brought on the newest member of AMMF, Mohammed Amer, in the fall of 2006. Preach and I met Mohammed in basically the same way, through the mainstream comedy club circuit as well as the emerging alternative "Muslim circuit."
The overall common goal of our show is very simple: to make people laugh. The bottom line about any comedy project is that it has to be funny. And because funny is funny is funny, people will turn up if you can consistently deliver quality comedy. In the final analysis, I think that's what AMMF is all about. However, if we are able to make people not just laugh, but also think, then I would say that we come out two steps ahead of the pack. And that's certainly a goal as well. Ironically, though he is considered so controversial, it was actually Lenny Bruce who said that a comedian who can consistently make audiences laugh has mastered his craft, but if he can also simultaneously raise the morals of his community, then he is a skilled craftsmen. I find that incredibly inspiring.

You'll be shooting in LA on August 24 and 25. How will you decide what material you've developed with the tour will go into the concert film?
Actually, we've already begun filming. We shot four smaller club dates in Washington DC on August 17 and 18, as well as lots of goofy B-roll footage of the comics going on various excursions around the city. The camera crew is also flying around the country getting some good background footage on each comedian since the film will ultimately be a concert-documentary film --- that is, it will feature predominantly standup footage from the LA show on August 25th, but it will also have some interstitial footage of the comedians and their backstories.
As for material, that's a tough one. I am keenly aware of the fact that I already have a core audience, one that is mostly Muslim, so I don't want to alienate or lose that crowd, but I also want to include mostly material that is accessible to people who are not Muslim and therefore may not have that shared experience or understanding, or set of cultural assumptions. So keeping the material "mainstream" (for lack of a better word) is of paramount concern. Additionally, I believe that the film may ultimately find a global audience, so I want to be sensitive to that as well. We have been extremely blessed to perform all over the world, in Europe, the Middle East, Asia, Australia, and in every major city of the US and Canada. I am trying to make sure to include material that will not just be understood by people all over the world but will actually resonate with them. It's a tall order, I know. That's why I can't sleep right now.
How did Dave Chappelle get involved, and what's his level of interaction with you comedians?
Preacher Moss is an old Washington DC cat, and so is Dave Chappelle. They basically came up the exact same circuit, at almost the exact same time, and they know so many of the same people --- it's really a wonder to me that they didn't cross paths much sooner. Anyway, the story is that we were trying to connect with Dave throughout 2005 because we had heard through the grapevine that he had said some nice things about our show. These were rumors of course, and we were skeptical, but we wanted to talk to Dave ourselves to be sure. Finally, in late 2005, Preach and Dave met up at the DC Improv, where Dave was performing and Preach was a regular staple. They really connected and later Preach introduced me to Dave when he was in Chicago performing at Zanies in early 2006. Since then, Dave has been a very dear friend, an insightful mentor, and most importantly, a soulful brother. He is just as down-to-earth and un-Hollywood as he comes across on TV. Anyway, as we got to know one another, Dave offered to help us out with the film project since he has always felt that "Allah Made Me Funny" is doing something that is important and socially conscious.
What do you hope to get out of the concert film experience, and what would you like to be doing, say, five years from now?
My goals for the film are modest, though I would not be surprised if it took on a life of its own. Everything since we started "Allah Made Me Funny" has been blessed and inspired. I am not so arrogant as to think it has anything at all to do with me, but it has been incredibly fulfilling and rewarding to be along for the ride. Truthfully, being involved in the concert film experience --- as both performer and producer --- I am really using this as a learning experience. I am learning what goes into film production and distribution. I am learning about the business of filmmaking. I am learning about the creative process required to pull off such an ambitious project. As for the future, I see myself continuing to perform live standup for a while, continuing to build the "Allah Made Me Funny" brand into new markets, developing a TV show idea of my own (already in development with a production team in NYC), and hopefully continuing to produce film and TV projects that present fresh perspectives and tell captivating stories.
In fact, I have already begun getting into producing a bit, and I am proud to be involved with my friend Julius Onah's short film entitled "The Boundary," which is in pre-production in NYC right now. I am one of the executive producers along with my friend, Zarqa Nawaz, who is the creator of that Muslim-themed sitcom in Canada, "Little Mosque on the Prairie," and we are proud to announce that Alexander Siddig (Syriana, Kingdom of Heaven, 24) is attached to star in the lead role. So be on the lookout for that!
And as for "Allah Made Me Funny: Live in Concert!" … it is (hopefully) coming in 2008, to a theater (or at least a DVD player … or computer?) near you!