Monday, July 31, 2006 at 10:51AM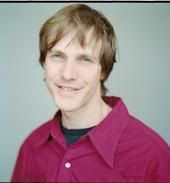 We got word recently that quirky stand-up comedian Jeb Cadwell is being followed.
Followed around by Time Out Chicago's Steve Hendershot, that is. Hendershot is writing a "week in the life of" article to showcase the more eccentric, out-of-the-way places to see comedy in Chicago. Cadwell took him on a bit of a rollercoaster this past weekend, with stops Sunday at Bad Dog (Your Sunday Best), then to the Mutiny (Open Wound Comedy), and tonight will be seen at the Annoyance Theater for class, then Gunther Murphy's for an open mic, then over to the Mix for another open mic, and possibly Bird's Nest, which is starting their Monday nights back up after a short hiatus. Tuesday Cadwell plans to hit the Cork Lounge and Trace.
Whew. We're tired just writing about it.
In other stand-up comedy-related gossip/news, the Bastion was informed that Mike Bridenstine landed an emcee position with the Improv, coming off his audition showcase last Wednesday. Tonight he can be seen in Zanies' "Rising Stars" showcase. TJ Miller survived the Del Close Marathon in NYC this past weekend and will be reporting in with lots of fun tidbits soon. Robert Buscemi is gearing up for his one-man show/DVD recording September 7 at the Subterranean, and Kara Buller is set to open her four-week one-woman show at the Cornservatory this Friday.
in
Gossip/News