Monday, July 24, 2006 at 8:06AM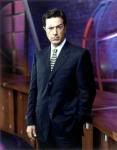 Okay, so maybe these pols don't have the whole "we're making fun of you and want to trick you into saying ridiculous things" down so well after all. The AP reported one hour ago that Rep. Robert Wexler was backed into a jokey corner by Stephen Colbert during a taping for the Colbert Report, and turned to the camera and said: ""I enjoy cocaine because it's a fun thing to do."
Not quite done smothering his own credibility and career, he continued: "I enjoy the company of prostitutes for the following reasons: because it's a fun thing to do. If you combine the two together, it's probably even more fun."
All we can say is "wow." Also, "The Bastion loves cocaine and prostitutes, too, but we're too smart to declare that in a public forum." Oops!
in
TV/Film