Tuesday, February 6, 2007 at 12:00PM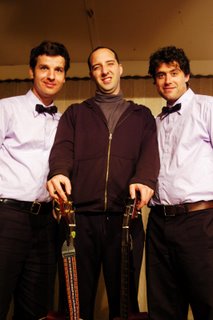 We've been spending time on
The Barrel Brothers'
website for the past half-hour or so -- for some reason or another, we're mesmerized with the audio coming out of our speakers whenever we roll over the various icons -- and we found a link to
their blog
.
This blog is about the movie we are currently developing, starring us and Tony Hale from "Arrested Development". We have posted a trailer for the short film which we'll be expanding and which we made with only 3,000 dollars.

We're not entirely sure how often the blog will be updated, but we plan on heading over there every week or so, if only to rewatch
the trailer
over and over again, which makes us wish the movie was done.
in
News Brief