Tuesday, February 13, 2007 at 8:22PM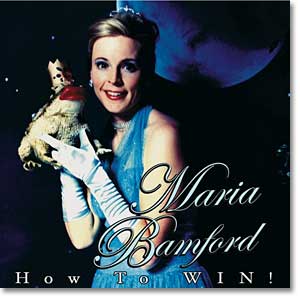 We took in one hell of a show the other night over at "What's Up, Tiger Lily?" with our good friend David Pardue, who just happens to be a contributing writer in these parts. As such, we goaded him into writing a mini-recap, which follows.
Local High-Profile Comic Victim of Theft!
I went to
Tiger Lily
in Los Feliz Monday night to celebrate the release of Maria Bamford's new CD,
How To Win
. I expected copies of the CD would be available for purchase, so I brought some extra cash along. Little did I know that I would be witness to a crime. Instead of being sold, CDs were
given away free
to all attendees.
A case could be made that this crime was perpetrated with the full knowledge of Bamford, especially as she was the one handing out the CDs. But still!
How to Win
, Maria? More like how to lose! By my calculation, at $10-15 per CD, Bamford is out like, well, some hundreds of dollars. On top of that, there was no cover charge for the evening. I was a bit non-plussed by this, and ended up spending my cash on drinks and a delicious dim sum appetizer.
Not only that, but I saw, in order,
Natasha Leggero
,
Melinda Hill
,
Karen Korn
,
Eddie Pepitone
,
Michelle Biloon
,
Jackie Kashian
,
Doug Benson
,
Jeffery Ross
and
Andy Kindler
perform. Everyone contributed to a hugely enjoyable evening of comedy. For
free
, did I mention?
Bamford also sprinkled in a number of classic bits from her CD during the course of the evening. The disc itself is really superb and listening to it helped make up for some of the guilt I felt in stealing it, signed with a personalized greeting, out of the hands of Bamford herself.
Also noted: Kindler was seen shamelessly committing an act of jaywalking in what is clearly becoming a high-crime block of Vermont Ave.
For photos of the event, head this way. If you stupidly missed last night and didn't get a free CD, head over to Maria's website and purchase one like a regular folk.
in
Show Recaps