Thursday, August 14, 2008 at 6:00AM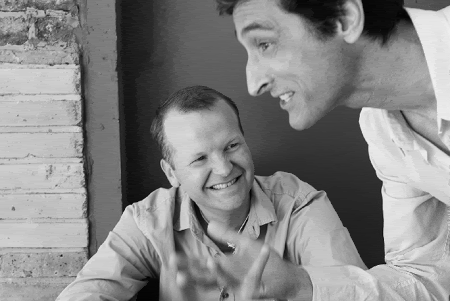 First, we have to thank today's interviewee, David Pasquesi, for indirectly being the reason The Bastion was born. When we were studying comedy writing at Second City awhile back, we blogged about seeing him at Nookie's after class one day, and the Apiary's editor saw that blog entry and contacted us about starting The Bastion. So thanks, Dave, for being at Nookie's that day.
When did you first become interested in acting and comedy, and how did you go about getting started?
I was a fan of comedy as a kid. Loved The Marx Brothers, had heard of The Second City, but had never been on stage. When I was in college I tagged along with my older brother to the Players Workshop of the Second City. I had Judy Morgan (Second City alumna) as a teacher, and she was wonderful. I got hooked right then. For the first time I really had great fun doing something. I then read the book, Something Wonderful Right Away, by Jeff Sweet, and that cinched it. And Chicago improvisation has this great tradition of really cool people. Then I finished college and along the way, I met Joel Murray and we performed a bit, then I went with him to Del Close's workshops when he was coming up with The Harold. Just happened into it.

We first noticed you as Stu the Meat Man on Strangers with Candy. How did that gig come about, and what was the most fun part of doing that show?
Like many things, it came from friends. Paul Dinello, Stephen Colbert, Amy Sedaris and Mitch Rouse all worked on Strangers and were friends from Second City in Chicago and had brought me out to work on their previous show Exit 57. The most fun was that I got to work with friends. It is always better to work with people you like.
Can you confirm and\or share your impression of the awesomeness of Amy Sedaris?
I am not at liberty to either confirm or deny her awesomeness.
No, she is great. She and the rest of the group are really fun to be around.
As you may know, you and your iO performance partner TJ Jagodowski are regarded by Chicago improv students as sort of living legends. How did you meet him and what do you think is unique about your relationship with him that makes it possible for you to do what you do?
TJ and I first performed together in a group that was cobbled together for one performance at the Chicago Improv Festival many years ago. I thought, "Hm, that guy's really good." Also, he has a great spirit and he and I seem to believe that improvisation can be wonderful. After that show, we started to discuss what we'd want to do on stage. And Charna Halpern gave us a stage at the iO and we started doing the show we still do. Now about the relationship. It is strange that we seem to communicate quite well, which is very helpful for improvisation. There's really no reason for it. I had a similar thing once before, with Joel Murray. We improvised very well together and knew one another's unusual logic or perspective. But we had been roommates in college and had spent a great deal of time together and in many weird situations. So it makes sense. But with TJ, it has been the same since day one…. But with no explanation.
Pasquesi stars in the Steve Delahoyde joint, Regrets: Hobbies.
You spent time earlier this summer in Italy shooting "Angels and Demons." What is your role in that movie like, and did you enjoy your time there?
I played a Vatican cop who speaks Italian and English with an Italian accent. Very little comedy. Had a ball doing it. Are you kidding? It was a great time. And it was Rome. I love Rome.
There seems to be an opinion floating around the Internet that you look like you could be Adrien Brody's equally hot older brother. Any thoughts on that?
I have not heard of the similarity before.
Equally hot? Really? We're equally hot? Hm. Me. And Adrien Brody. Is he even hot?
We've been seeing your face on CTA buses this summer, in ads for your new show Factory. How much improv goes on in a show like that, and do you prefer roles that allow you to be a little more flexible like that?
The show is improvised. We write outlines and then we shoot. So we know what has to happen within a scene. I love it. It is great to have the freedom to say what you want. Also, the entire cast is made up of people from Second City or iO from Chicago, so it is great fun to goof around with old friends.
Photo of Pasquesi, right, with comedy partner TJ Jagodowski, lovingly snagged from the Villager.
Related: The Apiary talks to Pasquesi in 2005.
Special thanks to Rachael Mason for arranging this interview.
tagged
Dave Pasquesi
in
Interviews