Thursday, July 13, 2006 at 10:52AM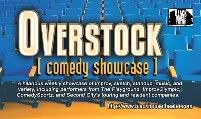 Sundays at 9, the Playground Theater throws a variety show-type underground showcase mishmash of experimental stand-up and improv called Overstock.
It's fast-paced and fresh with lots of new material and frequent wild card guests including music acts, magic, and the occasional puppet or two. Yeah, you saw that right. "Puppet."
Frequently hosted by Second City performer and human comedic tornado TJ Miller or Lincoln Lodge fixture Jared Logan, it's a big hit with the college crowd and offers a cheapie discount ticket for actors and other industry folks. Show up and you might catch the Lanie & Emmy Show, or Boston faves The Ex-Patriots, who try out new stuff with their Second City mainstage performer cohort Brian Gallivan. Call 773-527-2963.