Friday, June 27, 2008 at 5:00AM
The Chicago Reader has chosen its "best of" for 2008, and the Reader's Choice comedy favorites include stand-ups Michael Palascak and Mike Stanley, improvisers Susan Messing and Katie Rich, Improv Groups TJ and Dave and the Hot Karl, sketch groups the Cupid Players and Hey You Millionaires, and venues the Annoyance Theater and ComedySportz.
Schadenfreude is retiring to the lake for the summer! And by that we mean they're doing original sketch shows at the Theater on the Lake (Fullerton Avenue and Lake Michigan), performing some of the best sketches of their ten-year history, and then retiring them! At that point, they'll be referred to as "classics." The shows started Wednesday and run through Sunday night, with all shows at 7:30 (except Sunday's, which will be at 6:30). Tickets are $17.50, call 312-742-7994 for reservations.

Chicago stand-up Cameron Esposito was recently a guest on the nationally popular Feast of Fools podcast. She will also be heading to 2009 Aspen Rooftop Comedy Festival.
Visitors Locker Room has redesigned their website and now it's super simple to listen to Chicago comedians Sean Flannery, CJ Sullivan, and guests shoot the breeze about sports and other amusements. VLR podcasts are now available on iTunes, and the new site also features their videos, which enlist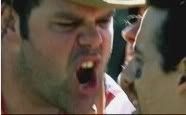 the talents of friends like Brady Novak, Matt Braunger, TJ Miller, and others. At least one of the videos is -- how can we phrase this eloquently -- fucking brilliant.

--Elizabeth McQuern
.