Friday, August 1, 2008 at 12:00PM
Did you have a long, hot, exhausting week? So did we. So much so that we didn't hold ourselves to a daily posting schedule this week. But today even after letting ourselves off the hook from writing altogether, we were laughing aloud at recent blog entries by some folks in our orbit and we thought we'd share.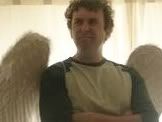 First, Matt Braunger talks about preparing for his first season on MadTV:
I start hanging out with the writers next week for Mad. Basically, I hang out and pitch ideas. My only worry is becoming that guy who won't leave at a party. "You guys want some coffee or anything?" "Fucking no, dude! Stop standing in the corner and staring at us!"
Luckily I've met most of them and they seem like nice folks, so there's that. Also, the cast is super amazingly cool. I went to a press gala for Fox at the Santa Monica Pier last week and they couldn't have been cooler to me. And I got to hang out with JB Smoove! You may know him as the greatest man working in television today.
Of course, none of this has sunk in at all. Probably won't until we tape in front of a live audience for the first time. Seriously. Right now I'm just trying (usually failing) to write, going to my acting class, going to physical therapy, doing shows around town, and drinking with pals on the weekends. The pictures they took of me on the red carpet at the gala have, as far as I know, been destroyed. I KNEW I should have threw my arm around Hugh Laurie's shoulder. Boy, that was bizarre. The publicist walked along next to me and would announce to the camerapeople, "This is Matt Braunger. He just joined the cast of Mad TV." And then they'd smile and take my picture, laughing as I said such typical red carpet dialogue as, "I don't know what to do right now" and "Where do I look?" and "Do people usually smile?"
Then, Braunger's tale of the mysteries of feline carnality:
I just heard what sounded like the worst catfight/fuck ever. Angry yowling and furry thrashing. Then it stops. Looking outside I see two cats laying side-by-side peacefully in a sunbeam, looking at each other. It suddenly occurs to me that I've heard them do this before. There's the horrible cat sounds (rare), and the two annoying dogs who bark at nothing all day (all the time). Kyle was right when I told him about them and he said, "Time for a poison steak." I've considered it.
But I wonder what makes the cats go crazy, then lazy. Sure, sex is the first thing that comes to mind, but I don't think that's it. I think they're like Richard Burton and Elizabeth Taylor back in the day.
"Fuck you!"
"No, fuck you!!!"
[angry yelling and hard punches and slaps, furniture being destroyed]
[silence]
"Oh, I can't stay mad at you. Come lay with me in the sun."
"Christ, I'm drunk."
"Me too, my love."
Yeah, that's it. Mystery solved.
Dan Polydoris tallies up the sum of his eBay purchasing shame:
I literally just finished the transaction for one of the top five lamest ebay purchases in my life. I am officially now (thanks to Buy It Now!) the proud owner of an ABC's "Lost" Series One John Locke Action Figure. All it took was some money, a couple of minutes on Paypal, and most of my dignity. On top of that, this isn't even the first (or worst) investment I've made on ebay.
Some of my other notable ebay purchases (in no specific order):
1970's Lord of the Rings Brass Belt Buckle
The Elvish writing on it states, "Speak friend and enter." Surprisingly, no woman has ever gotten close enough to read it.
Set of Four Loose/Incomplete A-Team Action Figures
I spend more time with them than with my girlfriend.
1980's Vintage Pacman Lunchbox with Thermos
Nothing says "retro" like being the creepy temp in the office eating his lunch out of this gem.
Vintage A-Team Helicopter with Accessories
I had already bought the team. How the hell were they supposed to get around?
Mint on Card Robin Hood: Prince of Thieves Action Figure
The UPS driver punched me in the face immediately upon the delivery.
And finally, Mike Burns encounters a seemingly fit and healthy Los Angeles lady...or is she?
This morning while getting my morning 44 oz. fountain Mountain Dew from the Shell station, there was a woman, presumably fresh from a yoga or gym workout, dressed in appropriate clothing for such an activity. Made me feel bad like she had already worked out and was ready to go into her day, while I was just barely starting mine, having only accomplished the smoking of 3 Parliaments and about to drink a sand pail of white trash breakfast juice.
She was, oh, maybe in her late 30's, in excellent shape, etc. etc...
Anyway, so this gal is getting herself 2 big ol' energy drinks...I look closer and notice that they're not energy drinks, they're some sort of Sparks-esque 8.0% alcohol fruity malt liquor beverages. Mind you this is 10:30 am.
Then, she leans over the counter and says, "Do you have any scissors?"
The clerk says, "yes", and she says, "can you cut this off and throw it away for me?", extending her wrist and displaying a hospital bracelet.
He did as instructed, and she walked out the door, cracking one of the brown paper wrapped cans of anti-shakes medicine on the way out the door.
Looks like someone just either snuck out of rehab or spent the night in a government bed, sick with alcohol poisoning, and needed to avoid the d.t.s.