Tuesday, July 8, 2008 at 8:00AM
In late June 2007, a little bar in Edgewater called Kitty Moon became the home of a newly created comedy showcase. The creator of the show, Othy Schwering, had just finished his first level of improv classes at the Annoyance Theatre and was in search of additional stage time. Rather than slug around Chicago's densely populated comedy scene in search of a coveted timeslot, Schwering decided to stage his own variety show and invite stand-ups, improvisers and sketch performers to fill up his bill.
One year later and a venue change to The Playground Theater, Schwering's comedy showcase, known as Othy's Improv Night Kabaret or O.I.N.K.!, is still going strong. He and his co-producer, Kannan Arumugam, just celebrated the show's one-year anniversary last week with an all-star line-up that included the Chicago Reader's choice for best Chicago stand-up, Michael Palascak; the Chicago Reader's readers' choice for best sketch group, Hey You Millionaires; and the one-man sketch stylings of Nick Vatterott.
The Bastion sat down with Schwering to discuss the history of O.I.N.K.!, Robert Buscemi and why a pig in a spacesuit represents comedy.
Tell me about the beginnings of O.I.N.K.!
The first three shows were known as "Pallin' Around with Othy" and consisted of some former improv classmates and me as "The Johnny Come Earlies" and a few guest improv groups. So it was basically just an improv open mic. One classmate, Kannan Arumugam, was the only one to consistently show up to perform with the Johnnies, and we soon formed what is now the two-man house troupe of O.I.N.K!, Las Madres del Fútbol.
How did you go from an improv open mic to a pan-comedy showcase?
I met a brilliant comedian with a penchant for genius, one Robert Buscemi, who frequented the cafe that was, at the time, my employ. I asked him if he would do some stand-up to open up the show, warm up the audience, and generally spice things up a bit and he obliged. A comedy variety show was born. He would stop back by every once in awhile and suggest comic friends that would do sets when he couldn't make it.
If O.I.N.K.! had a mission statement, what would it be?
O.I.N.K!, from its inception, has always been about bringing together audience and artist in an unpretentious atmosphere where everyone can relax, feel respected and have a good laugh midweek. It's a chance for improvisers, musicians, and comedians to come together with like-minded artists and hone their craft in front of some great O.I.N.K! audiences.
You perform improv with Las Madres Del Fútbol and do some stand-up as O.I.N.K.!'s host. Tell me about your comedic beginnings.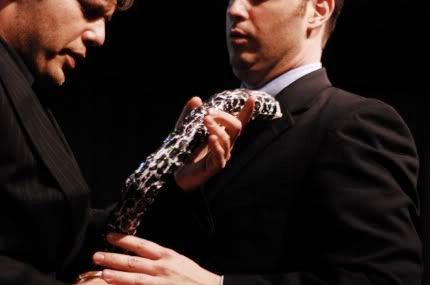 I suffered with bouts of pretty severe depression in college until a friend turned me on to "Mr. Show" on DVD. It was such a flash point for me—and not just comedically. It was so brilliantly executed and it just looked like what they were doing was a lot of fun. I realized then and there that one has to choose to be happy and live for yourself. I had always been interested in comedy and performing, so I switched majors from political science to theatre, finished school, and moved to Chicago.

You use a pig in a spacesuit as your logo. Where did that come from?
One muggy summer night last year, as I was doodling in my daily-machinations/think-thought notepad and brainstorming ideas on how to market the show, I started drawing pigs, with the tie-in tag line of "ham it up" in mind. Eventually, I noticed that the onomatopoeic "oink" shared the same first letter as Othy, and in the true spirit of self-aggrandizement I workshopped a number of iterations of the acronymic moniker until I came up with Othy's Improv Night Kabaret. The show's start at the Kitty Moon helps explain the pig in a spacesuit logo. Plus, I thought "O.I.N.K! at the Moon" was funny, as it seemed that the act of "oinking at the moon" was a foolish, if foolhardy gesture.
Any future plans?
The addition of Jen Larson as our first "oinktern" has further freed up Kannan and me to put on a slicker, smoother, and higher quality show and her energy and enthusiasm has definitely helped to reinvigorate the show. If anyone is looking for an unpaid oinkternship, they will find them readily available! As far as plans for the future go, we are researching how to make the show better and better. Discounted tickets are now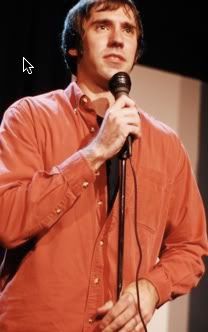 available online at www.oinkshow.com, a new stand-alone website is in the works and we've teamed up with Jones Soda to develop a line of O.I.N.K!-branded cream soda. Mind you, all these bells and whistles are only there to further our goal of creating great shows that bring together artists and audience in a rollicking comedic communion. Ham it up!
O.I.N.K.! is every Wednesday at 10 p.m. at The Playground Theater. Tickets are available online at www.oinkshow.com , where you can also send a message to request more information about being part of the show. Also, if you say "porkchops" at the box office, your ticket is only $5.
Photos (of, top to bottom, Othy Schwering and Kannan Arumugam, Nick Vatterott, Hey You Millionaires' James Asmus and Jim Fath, and Michael Palascak) by Annie Lesser.
in
Interviews