Friday, July 11, 2008 at 8:00AM
Spoofy musical group Lola Balatro has a four-night stand at The Playground (3209 N. Halsted) on Fridays, starting tonight, July 11 through August 1. The show is at 10:00 p.m. and tickets are $10. Tonight's opening comics are Prescott Tolk and Sean Flannery.
The Second City is kicking off "The Second City Improv All-Stars" on Saturday, July 12, 8:00 p.m. and 10:00 p.m. at The Apollo Theater Chicago (2540 N. Lincoln Avenue). The show is directed by Mick Napier and features a rotating cast including Alex Fendrich, Niki Lindgren, Rachael Mason, Craig Uhlir, Claudia Wallace and Steve Waltien. Call the Apollo Theater Box Office for tickets - 773-935-6100.
Speaking of Annoyance Theater founder and Chicago comedy legend Mick Napier, Time Out Chicago just published a fascinating interview with him, called "Mick in the Head," which explains his recent horrific experience with the smoking cessation prescription Chantix, and his determination to shake off its ill effects. Napier is slated to direct Second City's 50th anniversary main stage show beginning in late 2009.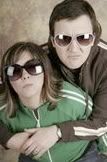 Chicago improv comedy duo Cathcart & Olson will represent Chicago at The 5th Annual San Francisco Improv Festival, July 31 – August 2. "Cathcart & Olson perform rapid fire comedy that celebrates and analyzes current trends, human behavior, and the struggle to maintain balance in a chaotic world," according to the press release. Cathcart & Olson have performed at improv festivals in Toronto, Austin, Seattle, and Washington, DC; and at venues all over sweet home Chicago. They will stage a send-off show at The Playground Theater on Tuesday, July 29 at 8:00 p.m.