Monday, June 23, 2008 at 7:15AM
Legendary stand-up comedian George Carlin passed away last night at the age of 71. Carlin, who had a history of heart problems, checked into a hospital in Santa Monica reporting chest pain Sunday afternoon. The reported cause of death was heart failure.
Carlin was slated to receive the Mark Twain Prize For American Humor in November. He was chosen to host the very first episode of Saturday Night Live in 1975. He wrote three best-selling books, and recorded twenty comedy albums, the first of which was released in 1967.
He was one of the best known comedians of the 1960's, making more than 80 major television appearances (back when, you know, there were only a few channels, and being on television really meant something). In 1970, uneasy with his initial success, Carlin abandoned his square image, growing out his hair and beard, and doing sex, drugs, and rock and roll stand-up in jeans, finding a younger, hipper audience in the process.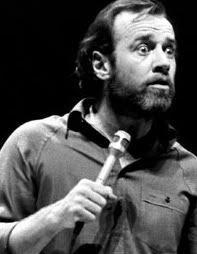 By the mid-70's Carlin was a bona fide irreverent cultural renegade, focusing his acerbic wit on politics, religion, and other sacred cows.
1977 saw his first HBO comedy special, "George Carlin at USC," with many more to follow, and he made countless feature film and television appearances over the five decades of his career, including in his own sitcom "The George Carlin Show," (1993 to 1995), and his recurring role as Mr. Conductor on the PBS series "Shining Time Station."
In 1991 Carlin told the LA Times "There are three ingredients in my comedy - those three things which wax and wane in importance are English language and wordplay; secondly, mundane, everyday observational comedy -- dogs, cats and all that stuff; and thirdly, sociopolitical attitude comedy."
Coverage in the New York Times CNN, LA Times.

1978's groundbreaking "Seven Words You Can Never Say on Television," bit, which challenged (and eventually changed) existing obscenity laws:



George Carlin on language: