Tuesday, August 1, 2006 at 5:00AM
Eugene Mirman is a New York-based comedian, writer, and filmmaker who, at Hampshire College, achieved every class clown's dream by earning an actual comedy degree. He does stand-up in New York and around the country, opens frequently for Stella, and hosts comedy variety show "Invite Them Up" with Bobby Tisdale every Wednesday night at Cinema Classics (AKA RiFiFi), where guests have included David Cross and Jon Benjamin, Todd Barry, Demetri Martin, Michael Showalter and Zak Orth, Jessi Klein, and Aziz Ansari, just to name a few. He makes frequent appearances on the Conan O'Brien Show as well as Comedy Central's Premium Blend. Eugene has opened for The Shins and toured with Modest Mouse and Yo La Tengo. Last Friday he performed with Aziz Ansari and Todd Barry at the Chicago Pitchfork Festival Pre-Party.
A friend of ours who was at the Pitchfork Festival Pre-Party show at the Metro Friday night said you were really great "as always." What was the show like from your perspective?
I had a great time and the audience was fantastic. Whenever I do comedy at a music event, I always get a little nervous, because you never know if people are going to want to see it or not. I don't want the audience to feel like something is being forced on them. With that said, when people are really into seeing comedy and it goes well, it's great. I'll give it a 9.2.
You seem to be having fun with many forms of media and personal expression: videos, mock protests, phone prankery, film, onstage readings of hate e-mails (with guest appearances from the writers of those e-mails), and, of course, The Magical Crooning Child. Has this made a big difference in raising your profile, and opening up more opportunities for you? Do you think more comics should consider this kind of approach?
I do love doing things with different media. I sort of always have. And though I'm sure it raises my profile, so would hosting a game show, but that seems depressing (unless I won the money or was given control of a small country — I don't want to make waves). Mostly, I just love standup, writing, performing, making films, doing odd stunts, etc. Often, in the comedy world, and probably entertainment in general, the industry mostly sees you in one way and pigeonholes you.
When I first got to New York, agents and managers mostly saw me as a TV writer and wanted to submit me for television sketch writing jobs, and though I didn't mind submitting and wanted a job, I also wanted to do standup, voiceovers, acting, directing, etc. But it was hard to get people to work hard to submit me for that stuff, because they didn't really see me that way.
So I got much of what I wanted on my own. I made my own movies, started a weekly show, began putting out records and working on a book. I don't like the idea of waiting around for something to happen. I think people should just make things and try to get it out there. And if along the way you can tease jocks and make sex jokes for money, great. I don't know if other comics should do it or not, but I enjoy it.
Chicago comedy folks tend to think of New York as "the next step," where bigger things are happening. What do you think is the general impression of New York comics when they visit Chicago (besides "weird, the trains are above ground here")?
I know a lot of comedians and improvisors from Chicago and it seems like a great comedy town. I've never seen any comedy in Chicago, but my impression is it's one of four or five cities in America that has a large, thriving comedy scene. Many of my favorite shows I've done were there. Plus I believe you can swear at some hot dog sellers, bars are open late and I was at a small Mexican diner at 3 AM where a 65 year old lady customer was charmingly kooky. So I bet it's a good comedy town.
While you were in Chicago, did you have enough time to enjoy any local fun, food, drink, etc.?
Yes. Though I would ask some of the bars to turn the music down. I guess I'd say that to many bars in many cities. Nobody wants to yell small talk at each other — it's much more pleasant to ask innocuous questions at a normal volume. One great thing about Chicago is that bars stay open very late. And if you get done with a show at 1 AM you can still unwind with friends and maybe even talk to a crazy drunk before you go to sleep. So that's nice.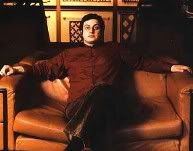 Which is more gratifying, releasing a comedy album on SubPop or being the subject of a song by a Belgian punk band?

I guess putting something out on Sub Pop. Though it was exciting finding out that someone in another country took a video of mine and made it into a song. But I got to put a little of the song in a video on the album. So I get the best of both worlds maybe? No? Maybe.

Given that the festival you performed at was called Pitchfork, did you ever wonder if a gentleman with a forked tail might have been involved in making it one of the hottest days this Chicago summer?
I don't think dark magic was involved, but I bet Al Gore has spent the last week sending "I Told You So" cards to former colleagues.
(Below, one of Eugene's many online offerings, a White House protest he staged against...himself.)

in
Interviews