Tuesday, August 1, 2006 at 11:00AM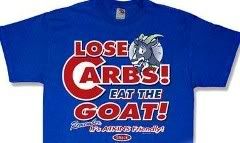 The Great Chicago Fire was blamed on a cow. The Cubs' lack of a World Series victory is blamed on a goat.
Chicago comic Sean Flannery says that Billy Goat Curse t-shirts are still being sold near his pad in Wrigleyville, despite the ridiculousness of the concept, and, of course, the long-deceased status of the goat in question. Oh, well, like the shirt says, at least goat is low-carb, if a bit gamey.
in
Random Funny