Monday, July 31, 2006 at 6:00AM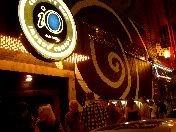 The Bastion braved the heat and the sweaty exodus of Cubs fans after the game Saturday night to head to i.O. on North Clark for the satirical improv show "Whirled News Tonight" at 8.
As they say, "The news is real. Everything else is improvised." Pre-show, audience members are invited to pick through the day's local and national papers and clip the articles they want the improvisers to create on-the-spot funny with. Easily enough achieved when the headline suggests that President Bush's "I'm just a regular guy" schtick might be backfiring on him a little bit, but it's surely something of a challenge when so many headlines are of the tragic variety. Yet somehow, with a collective memory bank of social and cultural information, and a commitment to quick comedic collaboration, they pull it off.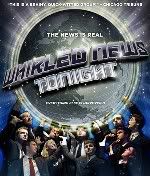 "Whirled News Tonight" loses the mock stuffiness of the satirical news format in the second part of the show, where they create stories based on real-life tales shared by castmembers after being prompted for a theme by the audience.
Strengthened by a three-year history together, and collective experience with comedy of all forms throughout Chicago and elsewhere, this troupe is happy to prod humor from daily news every Saturday night in the Del Close Theater.

Thanks to Bastion reader (by way of The Apiary) and WNT castmember Arnie Niekamp for the "how do you do."
in
Improv