Monday, July 31, 2006 at 12:30PM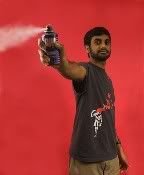 Aziz Ansari has informed us that he did, indeed, perform at Pitchfork, despite a six hour flight delay from NYC.
Says Aziz: "Todd (Barry) and Eugene (Mirman) convinced me to try to do a short set at the end of Sunset Rubdown, which I was pretty sure would be a disaster, but the crowd was really awesome and I ended up doing a full set. I was glad I got to tell my R. Kelly story in Kellz hometown. The Pitchfork Festival was a blast and it was cool to hang out with everyone. I'd love to come back and check out more of the city next time."
Aziz is getting mentioned in press all over the place, has done videos out the wazoo, and is soon to be seen in School for Scoundrels with Billy Bob Thornton and Jon Heder.
Aziz and The Bastion have promised to keep in touch so we can be sure to see him next time he graces a stage here in Chicago. And it totally won't be like that time we exchanged addresses at swim camp with that girl from Bloomington and then never wrote to her. What was her name again?
in
Stand-Up