Tuesday, July 25, 2006 at 12:15PM
"Get a bunch of immature men in tight pants together and it's sure to come up."
Apparently sitting around in extremely tight polyester pants has an...effect on the uhh, special male area.
The Bastion and F.O.B. Krystle were invited to sit in on the Blerds photo shoot this past Sunday afternoon. Before the gaggle headed downtown to Lakeshore Athletic Club, they readied at Casa de BridenHolmes, mocking each others too-tight polyester pants, short shorts, and white cardigans tied WASPily over the shoulders. After a quick beer, the posse ambled down Irving Park Road to the train, with puzzled passersby not only gawking but seemingly afraid of the pastel-clad crew.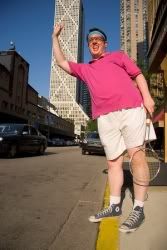 Forest Casey, photog extraordinaire, snapped away on the train as the boys took over the back half of a CTA car, and on the trek down Grand Avenue to the athletic facility where the main group of photos would be shot.
Surprisingly, only one observer asked what all the fuss was about. The Bastion wasn't sure, but thinks it might have something to do with the showcase being held this Friday at the Cornservatory (featuring Michael Holmes, Kumail, Sean Flannery, Pat Brice, Mike Bridenstine, CJ Sullivan, and Nate Craig), a Time Out Chicago article dropping tomorrow about the Blerds site, and a crop of new videos from Jordan Vogt-Roberts.
Or maybe they just needed an excuse to play dress-up for the day. Who knows?
Photos by Forest Casey.
in
Gossip/News