Friday, July 21, 2006 at 3:00AM
Charna Halpern founded i.O. in 1981, with assistance from the late Del Close beginning in 1984. Since then the i.O. Theater has thrived as a comedy training center and performance venue, and shaped generations of talent that now populate the airwaves and movie screens. Some of Charna's best known former students include Vince Vaughn, Jon Favreau, Tina Fey, Amy Poehler, Mike Myers, the late Chris Farley, Rachel Dratch, Tim Meadows, and Seth Meyers. Charna believes that "the funniest people in the world come from Chicago," and thinks there's something special about Chicago that allows comedy to blossom here. In her interview with The Bastion, Charna catches us up on new media and festival developments at i.O., explains how improv concepts can open even non-professionals up to more of life's possibilities, and tells us that she literally saved Del Close's life not once, not twice, but several times.
i.O. is a respectable 25 years old, yet is still vital and fresh. What's new and exciting at i.O. this season? We hear there are all kinds of cool new media projects evolving there.
Wow, word gets around quickly. Yes, lots of cool things are happening. First, our DVD from the 25th Anniversary Show at The Chicago Theater is being released by New Wave Media this August. i.O. just started a podcast that features our top talent. We are developing some TV shows and have come under the wing of Brillstein-Grey, who are some wonderful people. They recognize the amount of talent here and have been very receptive to our ideas. We are also working on getting more film shorts on our website so that it becomes even more of a fun place to visit. And, I have written a movie about me and Del that some of my very talented friends are doing a second draft on.

The iO West Improv Festival is really growing. The fourth one was last month in LA - can you share some impressions of that experience?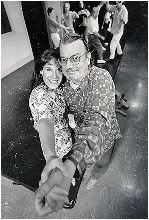 I am extremely proud of this festival, and much of the credit has to go to my i.O. West producer, James Grace. It has grown to the point where we may have to add another theater next year for some of it, including the closing night. The entertainment industry has recognized this fest as the place to be. One of my favorite things about the festival is that we are able to give awards to those who we feel have helped open doors for improvisation and made the world see that this is an art form to take seriously. The fact that these successful stars show up and are actually honored to receive The Del Close Award from i.O. because they respect what i.O. has done and what the award represents is what touches me the most. The first year we honored Curb Your Enthusiasm. After that it was Shelley Berman, then Fred Willard. This year we honored Harry Shearer, and the award was presented to him, on our behalf, by Eric Idle. It blew me away to have Eric Idle talking about i.O. and improvisation in his speech - not to mention watching him hang out in the green room. So, my impression is that this fest is bringing artists of all levels together. And at the risk of making this too long of an answer, I am also touched when so many students in L.A. tell me how they love i.O. and are so grateful to me for bringing this type of community out there.
Almost everyone we're getting to know in the comedy scene here tells us that the best show going is "The Armando Diaz Experience." Can you explain its appeal?
"The Armando Diaz Theatrical Experience and Hootenanny" is actually the full name of this show, but few people know that, for some reason. Another detail few people know is how the show came to be. They think Armando Diaz created it and that's not true at all. Adam McKay (writer and director of Anchorman and the soon-to-be-released Talladega Nights), Del, David Koechner and I came up with the show concept - that we have a show that is led by one person instead of a whole team. The original concept was, can one monologist inspire and even lead the piece? This monologist is to have the power to replay a scene, narrate a different take on the scene, and do whatever he wanted to the players in the show. And he/she would have the responsibility to pull it together at the end to bring a moral to the show - to pull together the ideas and explain the point of view these scenes were leading up to. It was the opposite of a Harold, where it was the group responsibility, rather one person's responsibility to say - "so here is what we are saying." And since so many people were working for Second City as well, we would have the show on Monday so all of our buddies could come back and play with us. In trying to decide on a name, Adam had the idea to name it after his friend, Armando Diaz, and to let him do the monologues for awhile. I asked Adam why he wanted to do that, as Armando wasn't even performing here and he replied, "Let's see if we can make this show so popular that Armando becomes a household name because of the show title." It was part joke and part experiment. We all agreed, and the rest is history. As to your question, which I bet you think I've forgotten by now, I think the appeal in Chicago is still the fact that folks who are now working at Second City and other venues, including TV, miss playing here because they don't really get to improvise in the way we do at i.O. If they are writing for TV, they come home on breaks because they miss the whole scene and are pretty much "jonesing." The audience knows that all these folks are getting together once a week to have fun, and they don't want to miss it. And I think it's the same in L.A. and even at UCB. In L.A., the top performers can't be on teams anymore as they are working - so they come to reunite in an Armando. The i.O. alumni in New York want to play and get in touch with that side of their abilities and the audience wants to see that. (They call it A.S.S.C.A.T. at UCB, but they aren't fooling anyone.)
Is it gratifying to know that lots of people who have studied at i.O. have gone on to big things - Amy Poehler and Tina Fey behind the desk of SNL's "Weekend Update," for example?
It's more than just gratifying...how can I describe it? I have seen these folks working their tails off for years and honing their craft. They would go to classes, rehearsals, shows. They'd audition, they'd coach, they'd teach, they'd write shows. They loved i.O. and believed in our ideals. They struggled, they shopped at thrift stores for clothes - they never complained. They loved the work. It's all they ever wanted to do. After years of struggling, their talents were finally appreciated and they were given career opportunities to do the only thing they ever wanted to do. I go through a range of emotions when my people are successful. I feel grateful to be able to help them get to where they are and pride that they are showing the incredible talents they have honed here. I feel relief because I know they are going to be ok and that they have found their way. And I feel incredible love because every one of them gives back and makes sure people know of this special place where people cherish each other to succeed on stage. And last but not least, it is confirmation that I am definitely doing something right. Not only have my people become writers and performers on SNL, MadTV, The Daily Show, The Colbert Report and Late Night With Conan O'Brien - they are also writing and directing movies - Jon Favreau, Adam McKay, Mike Myers, Tina Fey, Andy Dick, and The UCB, who made Martin & Orloff, which I enjoyed. And they all say they use everything they have learned here in their work.
At the same time, countless people who have learned improv with you take those skills and concepts back into totally different kinds of work. What are some of the valuable things that people who don't enter a career in comedy learn from improv and use to enhance their lives?
Those that are not going into the entertainment field are definitely learning valuable skills for their own use. I always say we are saving our corner of the world here because folks are learning the art of agreement. They have learned that life is more interesting when you say "yes." They have learned how to take these skills to work to create more collaborative work environments and they themselves have developed deeper listening skills and spontaneity. They are braver, and as Chris Farley said in my first book, "they can run their fastest and jump their highest."
What do you think is unique about Chicago's culture that has allowed improv to thrive here?
What is unique about our culture? Well first, I think Chicagoans are unique. They are very supportive audiences and they are proud of the fact that the funniest people in the world come from Chicago. They are eager to come out of their comfortable homes to support the stars of tomorrow. The weathermen can warn us on TV that it will be 40 degrees below with the wind chill factor and that folks should not go out unless they have to, and we will still have a full house at i.O. You can't tell Chicagoans that they can't go out. And because traditionally, the funniest people have come from Chicago, funny people from other cities who want to do this kind of work, flock here to "make the scene" as Del would say. So the culture grows and thrives. Most importantly, in Chicago, we take the time to get good. It has been thought of as "the laboratory" for a long time. In L.A. I have been told by casting agents that they will be more interested in an actor if they were trained at i.O. in Chicago because they know that person really worked to get good.
Truth in Comedy, the 1994 book you wrote with Del Close, is thought of as the "improv bible." Matt Besser has referred to Del Close as the "Jesus of improv." Lots of people call i.O. a "mecca." Would you like to go on record as claiming a religious figure for yourself? Perhaps Durga, the Hindu warrior mother goddess?

Oh, I love that title you suggested. Del used to call me "The Goddess" as well. But that's because I saved his life numerous times. After months of arguing, I convinced him to move out of the filthy apartment he had lived in for years across the street from Second City. I found him a new place by my house and moved him out. The week after he moved, the boiler underneath his old apartment blew up and the whole place burned down. He would have been killed - or at least his cats would have died. And all of his first edition books, which were quite a valuable collection, would have been destroyed. A year later, I decided that instead of working straight through to our next class session, I would give Del a night off, and the two of us would take in a movie. I canceled class. When we came home that night, the entire block was filled with fire trucks. The building burned down and the fire started outside our door, which was the only exit. We would have all been killed had we been in class. There were other times I saved him as well, so I was definitely considered by Del to be a Goddess. So I will accept that title with pride. And it does take a Mother Warrior to keep up the fight for all in this community. ONWARD AND UPWARD, FELLOW WARRIORS.
Okay, back to the real question now. You have written a new book, "Art by Committee: A Guide to Advanced Improvisation." The accompanying DVD features performed examples of the exercises and instructions from the text, as well as performances and interviews by some of your best-known alumni, including the Upright Citizens Brigade, Tina Fey, Rachel Dratch, Stephnie Weir, Tim Meadows, and Andy Dick. Does the book expound on things you've observed and learned since writing the first one?
The new book takes things further. I insisted that I would not rewrite anything from my first book, so it's important to read Truth In Comedy first. There were so many things that have come up since that book was written. I have had questions about so many things, like what advice do I give to woman in improvisation, etc. And I have noticed over the years,that although I dealt with the importance of agreement, many folks were confused by what that meant. Many advanced people would come to i.O. from Second City and think that agreement meant they had to say YES to everything. They didn't understand that agreement was between the actors - not the characters. Whenever I would explain away the confusion, they were always amazed and relieved because they were continually sacrificing their integrity on stage. I thought it would be a good idea to expound on some of these ideas and help to strengthen the concepts we built long ago regarding team work. Also, I have received so many calls over the years from folks who still couldn't figure out long form because they hadn't ever seen a Harold. I did a book signing at the Chicago improv festival this year, and 70 people in a row thanked me for putting a DVD in the book. "FINALLY," they all said. "Now we can show this to our troupes so they can see what the hell this is supposed to look like." That was a major part of the reason for doing this book.