Monday, July 17, 2006 at 4:30AM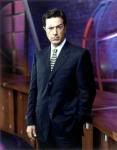 Stephen Colbert, notable Chicago comedy alumnus, continues to enjoy career ascent with movie and television endeavors. He's so busy he doesn't even have time to submit a headshot for his IMDB listing. He delivered a brilliant, much-discussed speech at this year's White House Correspondents' Association Dinner, and was named one of Time Magazine's Top 100 Most Influential People.
The good news is, his satirical format is now so well-known that even the least hip and media-savvy public servants now have some kind of clue what they're in for before arriving on the set for an interview. Seattle Democratic congressman Rick Larsen recently taped a segment with Colbert, which is apparently a "badge of honor" among elected officials, and gave himself over to the process with a reasonable attitude: "So what are you gonna do? You just play along. All you can do is just play along."
However, Colbert did manage to catch Georgia Republican Rep. Lynn Westmoreland off guard with a quiz on the Ten Commandments Westmoreland so dearly wanted to have displayed in federal buildings. Colbert asked Westmoreland to name those precious commandments, and the representative, well, came up short. In the linked clip, check out the Cheshire grin on Colbert's face as he concludes the interview with a "that's all I need" handshake...he knows he got a priceless moment there. Do you think Dan Rather would have had the spine? I don't think so.