Thursday, July 13, 2006 at 4:30AM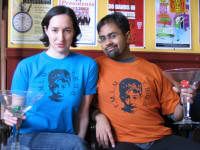 It's Thursday. You're not quite through the work week. Your desk is piled high with boring tedious junk you'd just as soon put through the shredder. You're looking for something wacky, spontaneous, and fun that will still let you get home at a decent hour.
So put on a fresh t-shirt and hop on down to the Neo-Futurarium, at 5153 N. Ashland (at Foster) at 8 PM for "Bride of the Neo-Futurarium," a staged reading of some of the most delightfully bad movies ever made. Brave performers will include Neo-Futurists, Schadenfreude, Dad's Garage, and others. (Ohh..."others!" I hear they're amazing.) Oversized martini glasses filled with giant dice not included.