Wednesday, July 12, 2006 at 11:35AM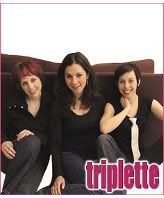 Tonight at 7 at the Apollo Theater, Triplette will perform a 35-minute sketch set in a comedy showcase to benefit the Chicago Abused Women Coalition. Bust a move to 2540 North Lincoln and spend $17 to laugh while making the world a better place. Call the box office at 773-935-6100 or click on over to Ticketmaster.
Other featured acts include Pimprov, Underage Sugar Addicts, Starknaked & Poised, Cupid Players, stand-up comic Tom Davis, Sketchcore, TomGirls, and Dirty Water.
in
Improv