Tuesday, July 11, 2006 at 8:37AM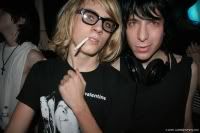 The Bastion triiiiied to see those boys over at the "Yacht Rock" screening last night in the fabled neighborhood known as Humboldt Park, but it couldn't quite make its way through the miles-long sea of moustaches, ironic tattoos, and thick-framed eyeglasses. We admitted defeat and hopped on two buses to double back for the regular shenanigans over at The Pants Off Party at the Mix (a.k.a. the biggest stand-up open mic in Chicago). It was here that we were corralled into an after-hours party at funny-gal Emily Dorezas' pad, and ran into Yacht Rock director JD Ryznar, fellow Channel 101 director Ryan Ridley, and John Roy home to visit, along with the usual after-hours suspects.
But now it's Tuesday and that means one thing: it's ChUC night. The Bastion will take a short interlude to stuff some envelopes in an office, then be out there tonight to see if runner Tony Sam is accurate with his description of the evening's planned festivities: "Five funny men and an abomination stand strong behind a woman of character and talent of which few are her equal. Be prepared to know the name and face of hilarity. Also be prepared with 5 dollars...and a towel...and fresh underwear, sumpin' great bound to happin'!" Think so? We do.
And this is your one-month-out alert: The Elevated is celebrating its TEN YEAR anniversary next month. It truly will be the party of the decade.
(Pic via Last Night's Party)
in
Stand-Up