Monday, July 10, 2006 at 12:16PM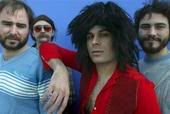 They blew into town about a week or so ago, invading open mics and showcases from The Mix, to Chicago Underground Comedy, to The Playground Theater, and have been assaulting the airwaves as guests of the Visitors Locker Room. Tonight the invasion of the L.A. Contingent will culminate at the Empty Bottle for a FREE screening of the complete Channel 101 series, "Yacht Rock".
What the heck is "Yacht Rock?" To quote the Empty Bottle site, it's a serial that "examines the 'soft rock' era of the seventies, recreating it in all its dramatic, excessive glory, offering up a gripping, hilarious 'behind the scenes' narrative that exposes the intersections and motivations of the Doobie Brothers, Loggins & Messina, Steely Dan and others." Sounds like ironic nostalgia at its finest.
Lots of "Chicago boys gone L.A." have been in town this week, wearing The Bastion out - and many of them will be at the Empty Bottle tonight to cheer on their "Yacht Rock" pals - but it's been nothing short of magical having them all back in sweet home Chicago.