Tuesday, June 15, 2010 at 12:29PM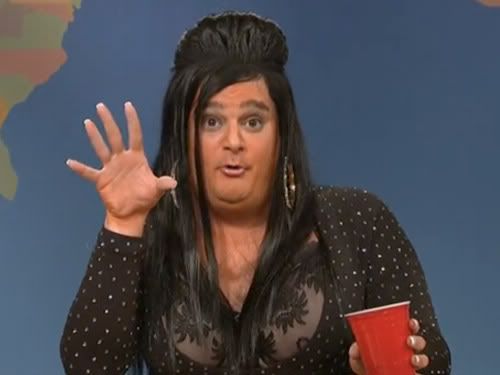 The SNL fansite, Live From New York, It's Saturday Night, just posted a terrific Q&A with Bobby Moynihan. Amongst other things, Bobby goes into great detail about the audition process, writing the Single Ladies sketch, and his blinding turn as Snooki.
One of my favourite recurring characters/impressions from season 35 was Snooki, who of course you played. I think what's great about it is that you're not just doing a dead-on impression of her, but you've turned her into a character. So, could you talk about the genesis of that impression? Also, one reader was curious as to how long it takes to remove the orange make-up?!

[I] remember writing down "Italian Girl gets punched in the face" I thought it might be funny for update. I didn't even know who Snooki was. Then I started watching the show and I fell in love. That girl is a cartoon character. She is just the free-est of spirits. When I finally saw the episode and they cut it I was amazed. They showed it like a thousand times a day for a week and then said that it was inappropriate so they pulled it. Amazing. I think I just thought about it and wrote down the Garfield line about being orange and loving lasanga and that was it. My good friend Christine Nangle had been hired on the show and we wanted to write together. I pitched her the idea of me playing Snooki on Update. Nangle is brilliant and we work great together. I think we wrote the first one in like twenty minutes. It just flowed. We sat on the couch outside the elevator and just hammered it out. I just remember that we kept saying that it shouldn't be mean. It should be what she would really say if she had a chance to be on Update. It was totally different at dress. Much more subdued. And less orange. Then Seth improvised something and I just did that laugh to recover. The laugh got the biggest laugh. That made me feel good and Nangle said "DO THAT LAUGH AS MUCH AS YOU CAN" On air, I think I just felt comfortable with Seth and the one was much more joyous and carefree. I think that's why people like her and the bit. Just an idiot having fun being an idiot. And every time we do it she gets more and more orange. Also Nangle is brillaint. She wrote the "Prison Jumpsuit" line from the Alec Baldwin episode. That line is pure genius and pure Nangle. Another crazy surreal moment was watching the real Snooki watch the clip on an MTV special. She seemed moved and touched. I just wanted to remind her that I was a dude painted orange and that she should not be as flattered.

It takes about twenty minutes to get the orange on. It's all Josh and Louis, the best makeup guys in the business. It's all airbrushed on then I get in the dress, boobs, jewelry, makeup, and finally the wig. I've gotten it off in three minutes for the next sketch but if you look closely my knuckles and neck are still bright orange.
READ MORE: SNL's Bobby Moynihan Q&A | Live From New York, It's Saturday Night
tagged
Bobby Moynihan
in
Interviews